Our Journey So Far
Author: Michelle


Oh, gosh, the excitement I feel to FINALLY have this website going live is totally off the charts! Getting to this moment has felt like a mammoth feat. I'm super stubborn though so firmly kept my eye on what I wanted to achieve, even when it seemed to be taking longer than I had hoped. Generally speaking, this blog will be about all kinds of things to do with the costume & dance industries, as those are the two big focuses of our business, Wonderland Costumes. But, just this once, I want to write a few personal words about our journey so far. The steps that lead to this point & what we hope for the future.
The journey really began back in 1994. I was living in Sydney at the time and saw The Adventures of Priscilla, Queen of the Desert, at the movie theatre. Yes, it was incredibly camp & a little bit naughty but so much fun and so Australian. For me though, it was all about the costumes. I just loved them! Even though I was working as a Chartered Accountant at the time (and continued to do so for many years), I vowed to one day make The Thong Dress from the movie. That really was the beginning of my love affair with costumes.
Many, many years later after working in accounting and having three beautiful children, I had the opportunity to purchase a rather run down costume hire collection in the town we lived in at the time. I desperately wanted to stay home & look after my kids but also really needed to work. My two older children, both girls, had begun dance classes & I loved everything about dance, especially the costumes ... even all those sequins! So, we purchased the costume hire collection, set up a small shop and for the next five years hired costumes out to the locals. We also sold a wide range of costumes and accessories and added dancewear for sale. As a side, I also made custom order costumes for folks (including a quite authentic looking Braveheart costume) and supplied dance performance costumes to the local dance schools. I loved my little business & I loved my awesome customers.
As we were nearing the 5 year anniversary of starting the business, we decided that a move was on the cards as my eldest daughter would be heading off to high school. We set our hearts on a move to Toowoomba, & in particular, the Highfields area. To prepare the business for the move, we split off the retail arm of the business, which became Wonderland Costumes. This allowed us to sell the costume hire portion, Dress Up 'n' Dance, to a a local party hire business. Dress Up 'n' Dance had been my life really for 5 years so I was very sad to let it go, but at the same time very happy that the business remained in the local area. And even happier & excited to start our new life in Highfields in January 2015. We are still located in Highfields, just outside of Toowoomba, & hope to stay here for many years to come. It's a little piece of God's Earth here & we love it.
So, Wonderland Costumes is now my main baby, with all my children off at school full time. After selling on ebay & having the B&M store for years, we can now, at last, service our customers through wonderlandcostumes.com.au. I have been wanting to get the website up & running for a while now but, I'm not kidding, with so many products we currently have in stock, it's been a huge undertaking. I still have many many MANY products to list, but at least this is a start!
At Wonderland Costumes we have three main focuses ... our fabulous customers, our passion for costumes & dance and our family. Everything we do is to cherish these three things. Our customers are so very important to me & I genuinely want everyone to be happy with their purchases from us. Each costume or accessory that we sell, we hope adds a little to the buyer's happiness ... well, that is how it should be, I think. It's all a bit of fun after all! Personally, I love being involved in this industry & I strive to know about the products we sell and assist our customers as much as I can. I also love the flexibility this business allows me to look after my family the best I am able to. At the end fo the day, my children are the most important thing to me.
So, here our journey continues. I am so hoping that we will meet even more awesome customers in the coming years, from all around Australia and in the Toowoomba area. We aren't just some big organisation pushing out product, we are a family business with a real passion for our industry & our customers. I very much looking forward to getting to know you all!!
Chookers!
Michelle
PS I did get around to making The Thong Dress. Here's a little pic of my long suffering husband wearing the dress to a costume party a few years back. Yes, I have definitely dragged him in to 'model' costumes for me many times, lol!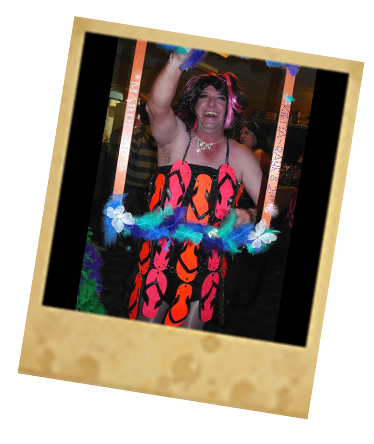 ---
Leave a comment